9 Experiences to Reinvigorate Your Senses in and Around Santa Fe, NM
Note: This blog was written by author Jacqueline Kehoe  for Matador Network in paid partnership with TOURISM Santa Fe.
When Georgia O'Keeffe first set eyes on the New Mexican landscape around Santa Fe, she wrote, "I'd never seen anything like it before, but it fitted to me exactly. It's something that's in the air — it's different. The sky is different, the wind is different. I shouldn't say too much about it because other people may be interested and I don't want them interested."
O'Keeffe was right about this place, and she was right about us: We're interested. Now more than ever, we crave the fresh air, the fresh experiences, the wide-open spaces, the sky and wind, the soul reawakening that only a place like The City Different and its surroundings can offer. We need to reinvigorate our senses and start over. Here's how to uncover your different in Santa Fe.
1. Hiking the wilds of Santa Fe National Forest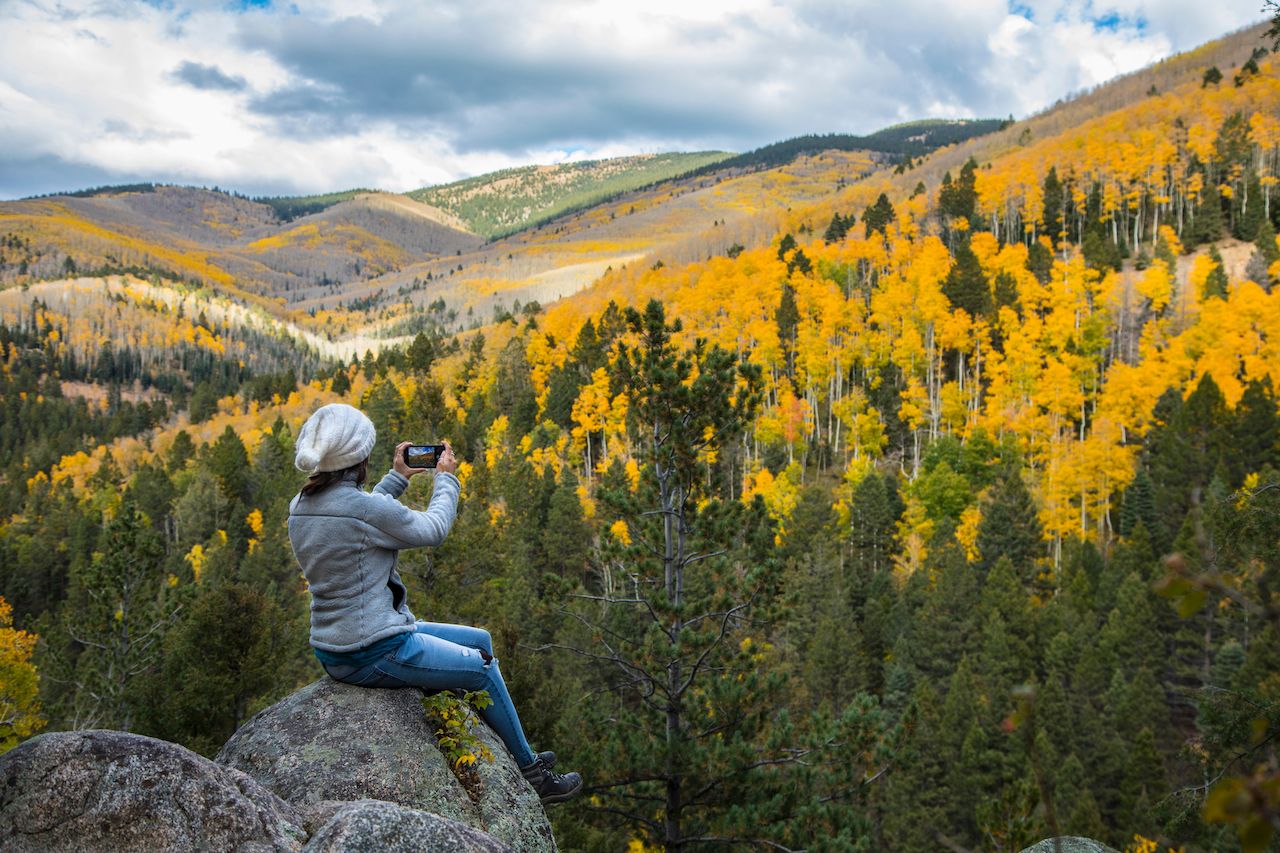 Photo: Light Benders Visuals/Shutterstock
At nearly 1.6 million acres, with hundreds of miles of trails, alpine lakes, mountain streams, aspen groves, hot springs, and elevations from five to 13,000 feet, Santa Fe National Forest has an incredibly diverse catalog of hikes. The trek up to the 12,600-foot Santa Fe Baldy is widely regarded as the top choice, a 14-mile journey you could easily turn into a two-day backpacking adventure. Either start ahead of the sun or stop at Puerto Nambé, a level meadow area about five miles in, to set up camp and take your time with the views.
Nearby Lake Katherine has its own incredible 360-degree alpine vista, while Jemez Falls and Rio En Medio Falls are accessible via easy and moderate hikes, respectively. Most agree that the golden hues of the quaking aspen make autumn the time to go, though this national forest is truly a four-season destination.
---
2. Soaking in the McCauley Hot Springs
Santa Fe National Forest is also home to a dormant volcano, and natural hot springs remain here to remind us that New Mexico's heat-churning days aren't over.
The 3.4-mile steadily uphill hike to the McCauley Hot Springs has great views the whole way, starting with the towering Battleship Rock — near the trailhead — and ending with small waterfalls and pools large enough for 15-20 people to have a soak under normal conditions (so if you and a few friends can score it all to yourself, you'll have plenty of space).
---
3. Exploring tent rocks and fairytale hoodoos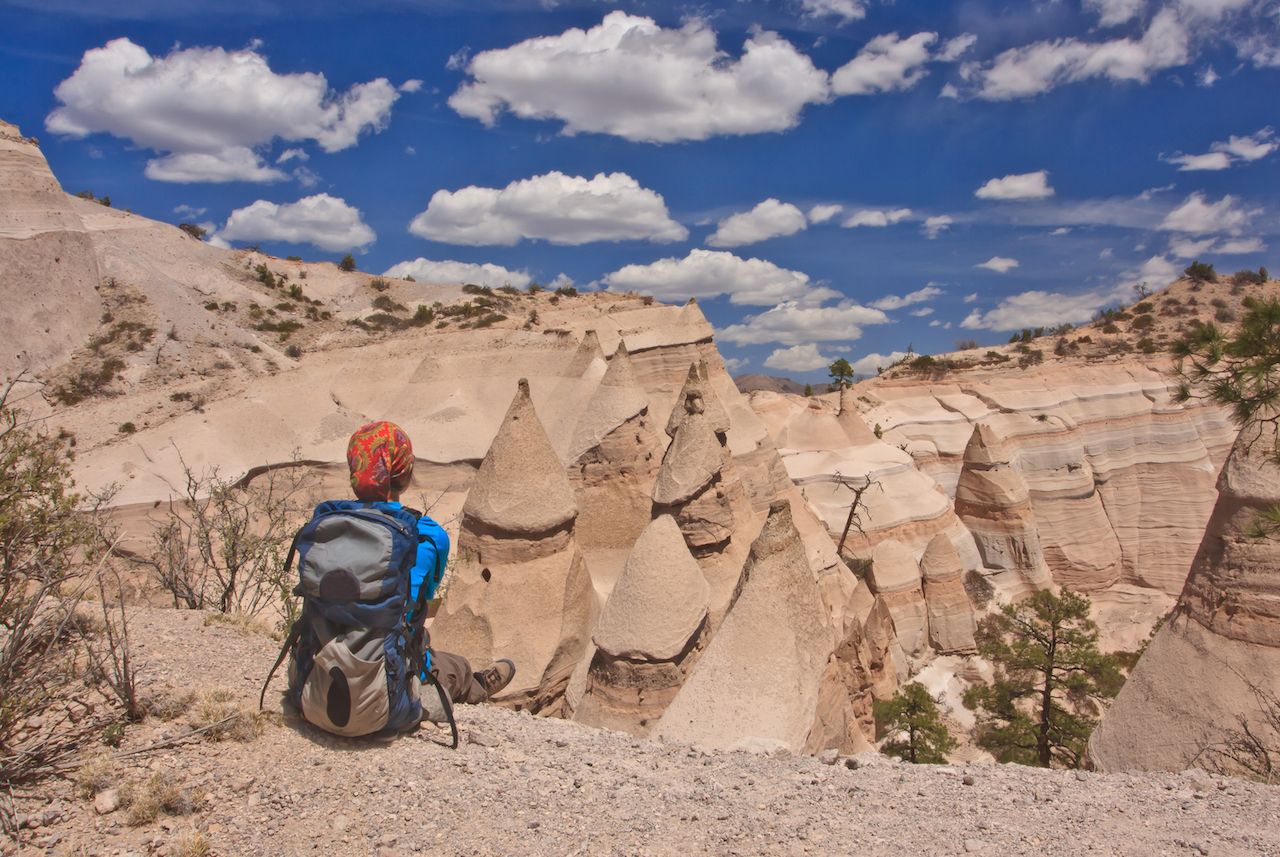 Photo: Juancat/Shutterstock
Some six or seven million years ago, a thousand-foot-thick blanket of pumice, ash, and volcanic tuff covered this swath of north-central New Mexico. Over time, the rock layers have weathered and eroded, turning Kasha-Katuwe Tent Rocks National Monument into a fairytale land of tent-shaped cones, hoodoos, and slot canyons you can wander through, around, and between.
The 1.5-mile Canyon Trail is a one-way hike into a gorgeous slot canyon, and at the top of the steep 630-foot climb, you'll summit a mesa and look out to three mountain ranges — the Sangre de Cristo, Jemez, and Sandia — and over the Rio Grande Valley.
Note: To avoid crowds, go early.
---
4. Rafting the Rio Grande
Around half an hour from Santa Fe, you'll find both the roaring Rio Grande and the somewhat calmer Rio Chama, one of its tributaries. One day you're navigating Class IV rapids in the Taos Box, a remote, cliff-lined chasm with 60-some rapids — the next, you're lazily floating to the tune of rippling water.
The Rio Chama is a designated Wild and Scenic River, and a three-day float takes you along 30+ miles of water — some stretches with Class I–III rapids — much of the ride underneath high sandstone walls. Both Ansel Adams and Georgia O'Keeffe found inspiration in this area, and that should tell you all you need to know.
As for the Rio Grande, opt for a day trip through the Lower Gorge, tackle the Taos Box if you've got the confidence, or go for a 24-hour overnight trip in the scenic Orilla Verde section to catch twilight on the water. New Mexico River Adventures can hook you up with all of the above.
---
5. Mountain biking in the Sangre de Cristo Mountains
Photo: TOURISM Santa Fe
This southerly subrange of the Rocky Mountains extends well into New Mexico, peaks jutting into the sky just east of Santa Fe. The Sangre de Cristos are crisscrossed with mountain biking trails, most nearing a description not too shy of the word "difficult." Here are a few to check out:
Dale Ball Outer Limits – Winding through Santa Fe County, city proper, and Santa Fe National Forest, the Dale Ball Trails are some of the most accessible. The 9.4-mile North and Central Loops, which link to form the Outer Limits, ascending and descending some 1,200 feet with a max grade of 21%, weed out the beginners.
Jagged Axe – If you're a fan of high-speed corners, chutes, rock-rolls, and hike-a-bike sections, the 2.7-mile "Jagged Axe" — near Glorieta — will give you a run for your money.
Upper Rio en Medio – A quick 1.9 miles that's nearly all descent, this trail takes you past waterfalls, creek crossings, and along tight switchbacks. You'll follow the river the whole way.
If you're not one to tackle six-foot drops and gnarly rock gardens, the city has plenty of beginner-friendly bike paths, like the Santa Fe Rail Trail from the Railyard District out to the New Mexican countryside.
---
6. Playing 18 holes under the wide-open sky
There's one way to get some wilderness to yourself — and maybe three others — and that's on the golf course. Four mountain ranges surround you at Marty Sanchez Links de Santa Fe, the high desert unfurling in the in-between just long enough for an 18-hole par-3 course.
South of Santa Fe, Cochiti Golf Club is also worth a mention. This Robert Trent Jr. course sits high on a plateau, winding between hills of juniper — which makes for some exciting terrain.
---
7. Feeling the spirit of the Puye Cliffs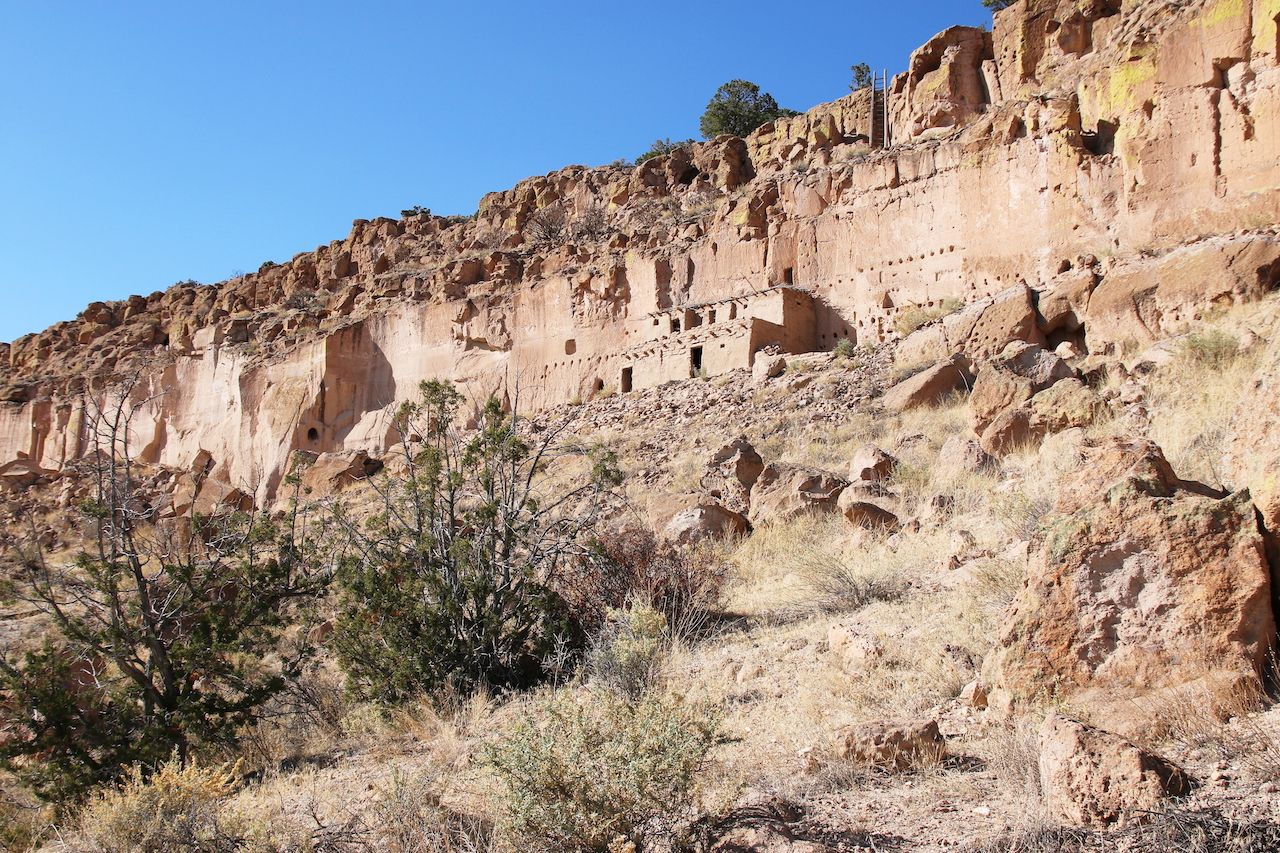 Photo: Bas van den Heuvel/Shutterstock
"Between the Earth and the sky" is exactly where you'll feel you are at Puye Cliffs. Pueblo Indians — the Tewa — lived in these caves and cliffs from 900 to 1500 AD, leaving behind a massive complex of nearly 1,000 rooms across two different levels. Tours allow you to climb the ladders and explore the kivas and other features of these impressive structures.
Most importantly: The tour guides are all descendants of those who originally inhabited these dwellings. Their stories will introduce you to a history and culture that most Americans know far too little about, taking the experience to another level altogether. Visit with respect and an open mind, ready to listen.
---
8. Going underground at the Gilman Tunnels
For one heck of a road trip out of Santa Fe, head east toward Jemez Springs and link up with Forest Service Road 376. This narrow two-lane route traces a line through the Rio Guadalupe box canyon, rock walls towering above it on both sides, at some points nearly blocking out the sun.
What definitely does block out the sun is the series of tunnels along this road, originally cut to facilitate a logging railway that operated in the 1920s and '30s. The road turns to dirt just past the tunnels, but you can continue on to Highway 126 and eventually back to US-4 for a memorable loop drive.
---
9. Memorizing the foggy lines of New Mexico's Milky Way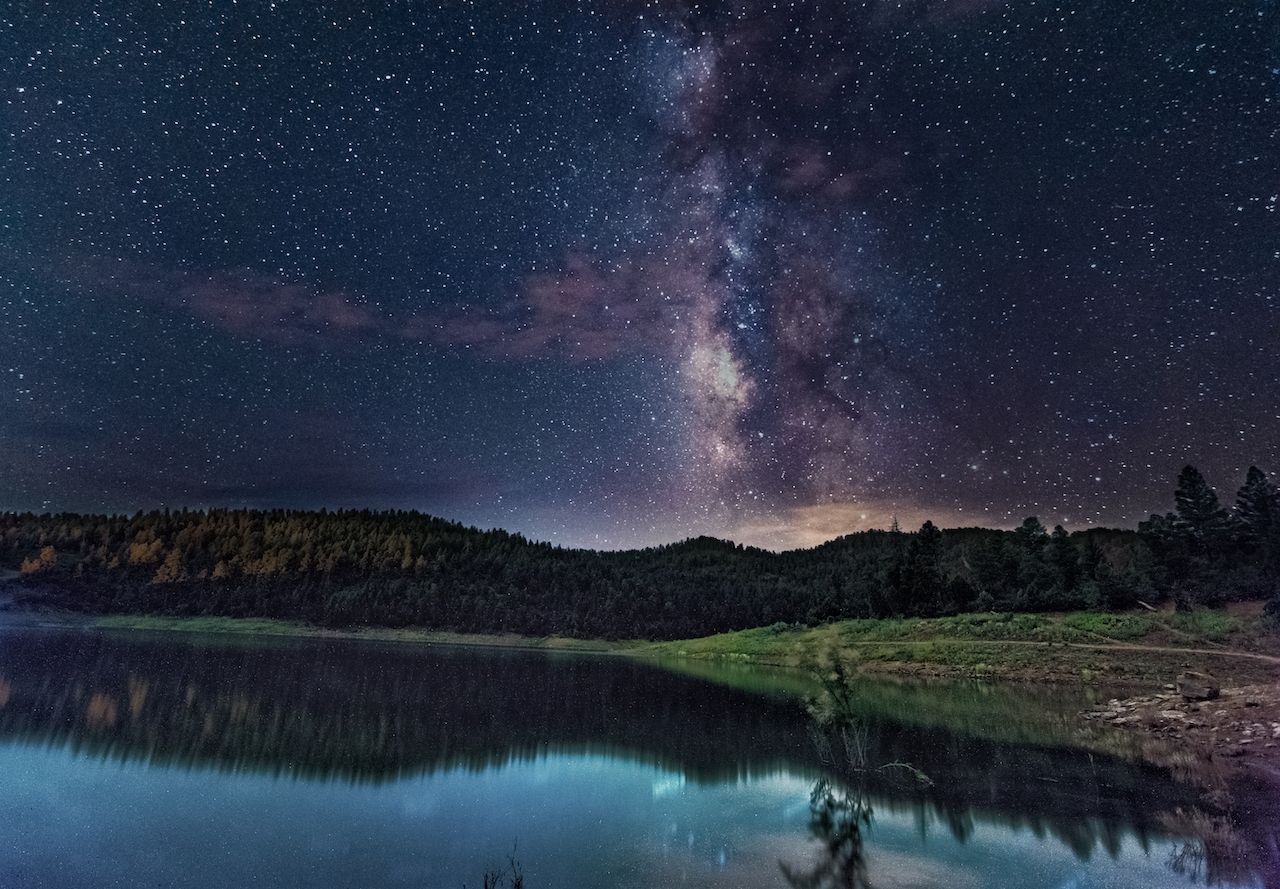 Photo: JB Manning/Shutterstock
New Mexico has one of the lowest population densities in the US, and you know what that means: views until the Milky Way, thousands of stars lighting up the sky from not too far out of town, and endless opportunities for busting out that telescope. Or someone else's:
The El Rito Observatory holds monthly "dark night" star parties. Head north to the town of the same name and look for the golf-ball-shaped domes.
Astronomy Adventures runs star tours on Cerrillos Hills State Park's Turquoise Trail. Peter, your guide, is a park ranger by day and astronomer by night.
Geoff at Night Sky Adventures leads personalized group tours in Bandelier National Monument and the surrounding area. He's a National Park Service "Dark" Ranger and former astronomy teacher.
Night-sky views in the Jemez Mountains — near Valles Caldera, less than an hour from Santa Fe — are known for being remarkable.
Whatever road you choose, whether it's a trail of stars or a mountain path, it's time to reinvigorate your senses — and uncover your different in Santa Fe.